The Glorious First of June 1794

During the French War at the end of the 18th Century, the Royal Navy fell short of its compliment of Marines and several Regiments, including The Worcestershire Regiment, supplied drafts to take their place.
On the 1st of June 1794, the British fleet, under Lord Howe, came into action against the French. Rather more than 400 of The Worcestershire Regiment were serving in the Fleet, distributed among several ships. Eighty-one were in HMS BRUNSWICK. As BRUNSWICK went into action, the Ships Band, including a drummer of the 29th, played a popular air of the time – 'Hearts of Oak'. BRUNSWICK met and came to close grips with LE VENGEUR, a French ship of equal size and armament, and for over two hours they fought.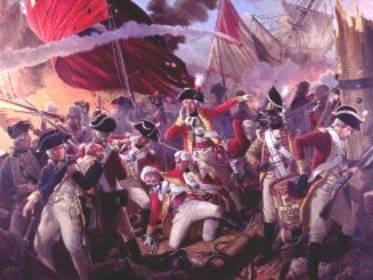 The 29th put up a magnificent fight.

The Captain of the detachment was killed and the Ensign and 20 others were wounded.

During the progress of the Battle, ACHILLE came to the aid of LE VENGEUR, but with one broadside BRUNSWICK disabled her.

At last BRUNSWICK and LE VENGEUR drifted apart and the French ship, which was sinking, surrendered.

Some of the crew subsequently hoisted the French Colours again and went down gallantly with the ship.

For its part in the engagement, The Worcestershire Regiment was later awarded the Naval Crown.

include "footer.inc" ?>