Worcestershire Regiment 1922-1950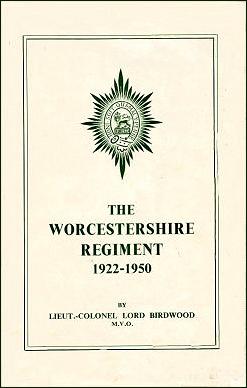 By Lieut.-Colonel Lord Birdwood M.V.O.
Published by Gale & Polden Ltd.

Published February 1952

Many eventful years of a county Regiment's history are covered in this stirring story. It deals with the period before the outbreak of the Second World War, the services of the Regiment throughout that conflict, and its activities since.

In the pre-war years the 1st Battalion saw service in India and Shanghai before coming home, and the 2nd Battalion served with the Rhine Army, in Malta, Shanghai and Tientsin and then in India, where it was stationed on the outbreak of war.

The 1st Battalion had been sent to Palestine on account of the Arab Rebellion and, moving to the Sudan, it took part in the Eritrean Campaign, being present at Keren and the surrender of the Italian Forces at Amba Alagi. It was later transferred to the Western Desert and had the misfortune to be captured at the fall of Tobruk. It was re-formed in England largely from the disbanded 11th Battalion and took part in the North-West Europe Campaign, fighting in Normandy, Belgium, Holland and Germany.

The 2nd Battalion fought in Burma, in which campaign the 7th Battalion also took part.

The Regiment was represented in the B.E.F. by the 7th and 8th Battalions, who, after fighting in France and Flanders, were evacuated from Dunkirk. An account is also given of the services of the 9th, 10th, 11th and 12th Battalions. Appendices include the Roll of Honour and Honours and Awards granted to Officers and men of the Regiment.

This book is available direct from the Regiment for the special price of £18 (includes post and packaging). Please send your order with your payment (make cheques payable to RHQ WFR) and address to:
Regimental Secretary
RHQ WFR
Crookbarrow Road
Norton
Worcester
WR5 2PA

Please mention this web site when ordering.