Wounded in Action (N.W. Europe 1944-45) - 1st Battalion Worcestershire Regiment
Introduction

By 1944 medicine had made great advances and this was quickly applied to the battlefield greatly increasing the chances of survival and recovery of those wounded. By the end of 1944 penicillin was readily available to all wounded troops and saved many lives. Also of importance was the supply of fresh batches of blood plasma (blood without red corpuscles) used to replace the fluid part of the blood that seeps away through the walls of the capillaries when a man is wounded.

It is interesting to note that statistics showed that some 75% of all wounds were caused by mortar, grenade, aerial bombing or shelling. Only 10% were caused by bullet or anti-tank shell and a further 10% caused by landmines or booby traps. However, if one also takes into account those who later died of their wounds then the figure for gun shot wounds rises to 25%.

The body location of injuries showed that the whole body was equally at risk. The effects of explosive shells were fairly random, whilst even small-arms fire relied on indiscriminate saturation rather than marksmanship.

Military Field Hospital in Normandy
House used by the 1st Battalion as R.A.P.
Canteloup crossroads (1st August 1944)

During 1944-45 the 1st Battalion Worcestershire Regiment suffered 52 officers wounded or sick of which 4 died of their wounds or sickness shortly afterwards; 11 of the wounded officers returned to combat after treatment and of these 3 were wounded a second time. Also 2 of the returned officers later died in action. Of the other ranks there were some 700 wounded or sick which included 10 warrant officers (in July 1944 alone there were 133 other ranks wounded).

With in the 43rd Wessex Division from 24th June 1944 to 5th May 1945 there were a total number of 481 officers and 7811 other ranks wounded.


Dealing with the wounded

In N. W. Europe 1944-45, R.A.M.C. units were present at all levels, every infantry battalion had a Medical Officer (usually with the rank of Captain), a medical orderly, a 15-cwt truck in which to carry their equipment, plus an N.C.O. (Sergeant) and about 20 infantry men, trained as stretcher bearers.

All soldiers were trained in simple first aid and the use of morphine, plus they carried a First Field Dressing for immediate use in the field. A first field dressing, a small bandage pack, was carried by all ranks in a special pocket of the right leg of the battle dress trousers. In addition, a shell dressing, which was larger, was usually carried under the camouflage net that covered the steel helmet. Some vehicles also carried a boxed medical kit.
The wounded were collected by stretcher bearers and taken by jeep or carrier to the Regimental Aid Post (R.A.P.) where the Medical Officer (M.O.) and his orderly would give some immediate treatment. Depending on the severity of the wound, the Field Ambulance Personnel would evacuate the casualties to the Advanced Dressing Station (A.D.S) where they would then be collected by motor ambulance and taken to the Main Dressing Station (M.D.S.). The H.Q. of the Field Ambulance Company formed the Main Dressing Station (M.D.S.), where casualties and their records were taken, anti-tetanus serum is injected and urgent treatment given. After treatment wounded were then transported to a Casualty Clearing Station (C.C.S.).

A Walking Wounded Collecting Post (W.W.C.P.), usually set up about 2 to 5 miles from the frontline, to relieve pressure on the A.D.S during battle. Wounded are then collected by lorry and taken to the Casualty Clearing Station (C.C.S.).

From the C.C.S. casualties are then transported by Motor Ambulance Convoy (M.A.C.), a Corps Unit, and taken to a General Field Hospital for further treatment or surgical operation.

After treatment at the General Field Hospital the wounded were either moved to a Rest Station or a Convalescent Depot before returning to their unit or the more seriously wounded were evacuated back to U.K. by either ship or plane.

The rate of survival of the seriously wounded depended on how quickly professional medical treatment was received. In Normandy this was usually just one hour. Equally important were the three medical innovations of the time: penicillin and sulphanilamide (sulpha) to combat infection, and blood transfusion (plasma) to reduce shook.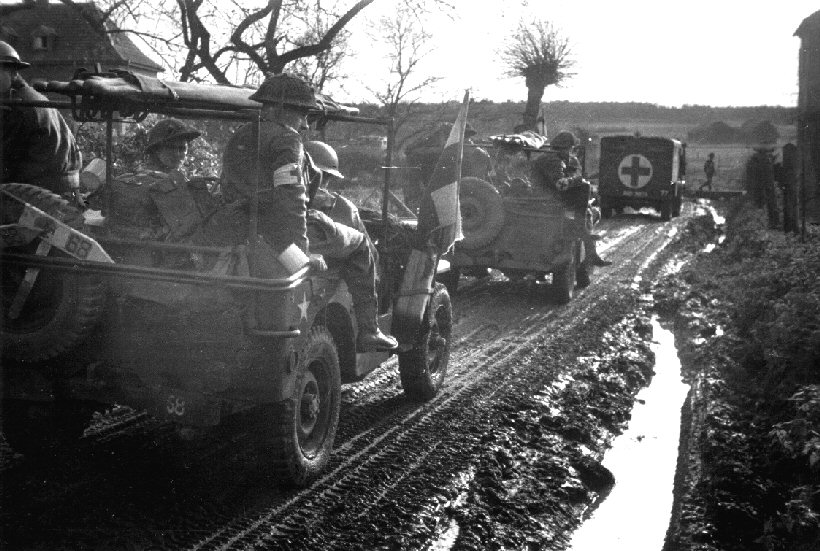 1st Battalion Worcestershire medical jeeps and stretcher bearers (photo I.W.M.)
(Private Bill Edwardes, front left in jeep is seen looking at the camera)
Ahead is an ambulance of 213 Field Ambulance
1st Battalion Worcestershire Regiment Medical Staff
| | | |
| --- | --- | --- |
| | | |
| Captain R. Duff-Chalmers (R.A.M.C.) | Sergt. Hodgetts | Private Bill Edwardes |
The Medical Platoon was organized as part of H.Q. Company and was commanded by Captain R. Duff-Chalmers (R.A.M.C.) with a Medical Sergeant as second-in-command (Sergt. Hodgetts).
The rest of the platoon was made up of stretcher bearers from which 2 were allocated to each company; they operated a rotate so each spent time out of the line at the R.A.P. The total battalion medical platoon strength was about 30 men.
Early in the campaign Sergeant Hodgetts was badly wounded in the leg at Mouen by enemy mortar fire. He was evacuated and later had to have his leg amputated.
On the 9th April 1945, Captain Duff-Chalmers was also wounded in the leg by a splinter due to enemy shelling while he was setting up his R.A.P. in a house in the town square at Haselunne, and was replaced by Captain J. McKendrick (R.A.M.C.).
Bill Edwardes was a young stretcher bearer, not yet 17 when he joined the Battalion. He recalls: "As a 9 stone weakling I found carrying of a stretcher by just two men, extremely difficult, and would stagger round like a drunkard for a few moments, after putting the stretcher down!"
Tales of the Wounded
Below you will find the stories of some of the men of the 1st Battalion Worcestershire Regiment who were wounded in N.W. Europe during WW2.

Lieut. John Patrick Allum (299664)

Johnny Allum was commissioned in to the East Surrey Regiment on the 13th November 1943. He was transferred to the 1st Battalion Worcestershire Regiment in Normandy on the 23rd July 1944 as the Pioneer Officer to replace the Lieut. George Alfred Kendall, the battalions pioneer officer who had been evacuated wounded the month before. After the attack at Berjou he was evacuated to hospital on the 19th July 1944 due to sickness. He returned to the 1st Battalion a few days later.

Sadly he was later killed on the 24th January 1945 whilst clearing enemy mines forward of the village of Tripsrath, Germany. By some mischance, when the job was almost completed and over a 1000 mines had been removed, as he was lifting one of the last mines it blew up and he was killed instantly. He was just 20 years of age when he died.

Captain Frederick Thomas Coulcher (240285)

Freddie Coulcher was commissioned in to the Worcestershire Regiment on the 25th July 1942. In January 1943 he was 2nd-in-command of the Anti-Tank Platoon of the 1st Battalion Worcestershire and continued in that role when they landed in Normandy in June 1944 and in July he took command of the Anti-Tank Platoon.

In the autumn 1944 he complained of Stomach pains and in December was evacuated to hospital in Brugge for further test, sadly after an operation he died due to an hospital error due to a mistake with the type of medication was used during the operation.

2nd Lieut. George Alfred Kendall (295672)

At the start or World War 2, George Alfred Kendall was already serving with the Auxiliary Fire Service. Early in 1943 he was called up for army service as a regular soldier. After training he joined the 8th Battalion Worcestershire Regiment who were at camp at Market Rasen, Lincolnshire, and was soon promoted to Sergeant.

In October 1943, he received a commissioned from the ranks as a 2nd Lieutenant and was drafted in to the 1st Battalion Worcestershire Regiment who were at Maresfield Camp in Sussex and joined 'D' Company as commander of 18 Platoon. In June 1944 he was appointed Pioneer Officer and landed in Normandy with Support Company on the 25th June 1944. Just 3 days after landing he was wounded by German mortar fire near Cheux.

Lieut. Peter Hall (148942)

In Normandy, Peter Hall was a platoon commander with 'C' Company and was unlucky to be wounded in the arm and shoulder during the 1st Battalions first action at Mouen, France, in June 1944. After recovering in England he returned to the 1st Battalion in France in September 1944. Peter was wounded for a second time on the 16th April 1945 as a result of a land mine which blew up a carrier in front of him, this time an eye wound.

In the later stages of the war he was recommended for the immediate award of both the M.C. (Military Cross) and the D.S.O. (Distinguished Service Order) and was presented with the latter by Field Marshal Montgomery at a Church in Celle, Germany shortly after the end of the war.

Lieut. Freddie Henry (276393)

Gilbert Frederick Powlett Henry, known as was commissioned in to the Royal Fusilier Regiment on the 15th May 1943. Early in 1944 he was posted to the 1st Battalion Worcestershire Regiment as a Platoon Commander in 'B' Company. Know by his men and fellow officers as "Freddie" he soon made a impression on his men.

He was a courageous soldiers and always lead his men from the front. In August 1944 he was badly wounded by machine gun bullets while attacking and capturing a German machine gun post. After recovering from his wounds Freddie returned back to the 1st Battalion in Germany at the beginning of 1946.

Sergeant Albert Greatrix (5244906)

At the beginning of 1943 Albert Greatrix was a corporal with 14 platoon. He was a keen sportman and was a member of 'C' Company football team. By 1944 he had moved to 13 platoon and promoted to the rank of Sergeant. He landed with the 1st Battalion in Normandy during June 1944.

On the 9th August 1944, 'C' Company were given the task of clearing the enemy on the road to Le Plessis Grimoult in the area of La Varinière and was awarded the Military Medal. A week later he badly wounded by German with a machine gun (Spandau), but managed to crawl back to the safety of his Company and was eventually to be taken to a Field Hospital, before been flown back to England.

Private Alfred J. Kings (14585242)

After doing his basic training at Norton Barracks (23rd I.T.C) he was posted in August, 1943 to the newly formed 1st Battalion Worcestershire Regiment, stationed at Wanstead. The Battalion at that time was part of the 33rd Guards Brigade. When the battalion joined the 43rd (Wessex) Division he took up the role of Bren Gunner. He landed with the 1st Battalion in Normandy in June 1944.

During the advance towards Arnhem he was wounded in the foot from machine gun fire during the battle for the village of Elst, Holland in September 1944.

Private Tommy Dutton (14577577)

Tommy Dutton was called up for army service in 1943 received his initial training at the Infantry Training Centre (I.T.C.) at Norton Barracks. During his training he broke a wrist had had to receive hospital treatment. On his return to the Depot at Norton Barracks he was posted to Market Rasen, Lincolnshire. In March 1944 he was selected to join the 1st Battalion who were than at Hythe traning and waiting for 'D' Day and the Normandy landings. He joined 17 Platoon of 'D' Company.

Tommy saw action throughout Normandy but was later wounded at Vernonnet during the Seine crossing at the end of August 1944.

Lieut. Peter Wade (307868)

Frederick Peter Wade originally joined the Queens Westminster Rifles T.A. in 1939. He was commissioned in to the Worcestershire Regiment on the 24th January 1944 as a 2/Lieut. On the end of August 1944 he was posted with officer reinforcements to the 1st Battalion.

Peter was wounded twice in action. The first time at Rischden in November 1944 where he was wounded by shrapnel. He returned to the battalion at the end of January 1945, this time to 'A' Company, only to be wounded again in March 1945 during the Autobahn attack at Vehlingen.

Major Bryan Elder (130065)

At the start of the war Bryan Elder initially found himself as Private soldier stationed at Maidstone with the Royal West Kent Regiment. After only 8 weeks he moved to an Officer Training Unit (OCTU) at Colchester. He was commissioned in to the Sherwood Foresters Regiment and posted to the 8th Battalion in Scotland. He then spent a period of time in Northern Ireland before returning back to Scotland in autumn of 1942. Shortly after he went with the Sherwood Foresters to Reykjavik, Iceland for winter training. On his return to England he took over the duty of Weapons Training Officer at a Pre O.C.T.U. training centre. At the beginning of 1944 he was appointed acting major commanding a company. In August 1944 as a Reinforcement Officer he was posted to the 1st Battalion Worcestershire Regiment. He was wounded in the later stages of the war.

Captain William Speirs (248378)

Rev. William Speirs was appointed as a chaplain to the British Army on the 30th October 1942 (4th Class Royal Army Chaplains' Dept.). In Normandy he was always close to the men in action and was always on hand to help the wounded men in the front line.

In February 1945 during Operation Veritable he was wounded at Cleve in the Reichswald Forest during heavy enemy shelling.

After recovering back at home in Scotland he eventually was posted to Italy at the end of the war.
List of Wounded and Sick Officers (1st Battalion Worcestershire Regiment)
During the N. W. Europe campaign 1944-45 there was a total of 52 officer who were wounded or sick, off these 4 officers were wounded twice. There were 4 officers who later died of their wounds and a further 2 were later killed in action. The names highlighted in RED returned to active service after treatment.
Surname

Forename/s

Rank

Date Wounded

Type of Wound

Location

Allum

John Patrick

Lieut.

19/08/1944

Evacuated to hospital

Berjou

Badderley

Kenneth William

2/Lieut.

03/08/1944

Wounded - evacuated 04/08/1944

Cahagnes

Bagley

Brian

2/Lieut.

12/12/1944

Frost bite in foot

Brunssum

Bennett

John M.

Lieut.

14/08/1944

Stomach wound

Chateau de Fontaine

Broome

William Harry

A/Major

29/09/1944

88 shell - Died of wounds 30/09/1944

Randwijk

Brown

R.

Lieut.

16/04/1945

Baumeweg

Brygider

Adam

Lieut.

29/06/1944

Heel blown off

Mouen

Clarke

Bowcher Theodore Senhouse

Major

04/11/1944

Wounded.

Mook

Coulcher

Frederick Thomas

A/Capt.

17/12/1944 (illness)

Evacuated from Brunssum to Brugge Hospital but died on the 30/12/1944 of Sodium Tellurite poisoning due to hospital error.

Brugge Hospital

Crossingham

Leslie Albert

2/Lieut.

17/02/1945

Body wound (minor)

Rosenhof

Davies

John Edward Oliver

Lieut.

23/09/1944

Bayonet wound left knee

Valburg, Elst

Duff-Chalmers

Robert

Capt.

09/04/1945

Leg wound by shrapnel

Haselunne

Durrant

Leonard Stuart

Capt.

30/07/1944

Evacuated sick

La Paumerie

Eberstadt
(later changed name to Everitt)

Walter Albert

Lieut.

09/08/1944

Machine gun wounds

La Variniere

Elder

Bryan Norman Rawnsley

A/Major

14/04/1945

Right leg wound

Lethe (Ahlhorn)

Figures

Colin Frederick

Lieut.

27/02/1945

Battle accident

Louisendorf

Fiset

Henri Paul

Lieut.

23/07/1944

Shrapnel wound

Hill 112

Fiset

Henri Paul

Lieut.

03/09/1944

Motor cycle accident (Broken leg)

Paris

(trip to Paris)

Grubb

Alfred Albert

A/Lieut.-Col.

27/04/1945

Arm wound from shrapnel - evacuated

Bremen

Gutch

Archibald John

T/Major

29/06/1944

Neck wound

Mouen

Hall

Peter Geoffrey

Lieut.

28/06/1944

Left arm

Mouen

Hall

Peter Geoffrey

A/Major

16/04/1945

Eye wound

Baumeweg

Harrison

Antony Roy

Lieut.Col.

05/08/1944

Evacuated sick

Point 361

Henry

Gilbert Frederick Powlett

Lieut.

09/08/1944

Machine gun wounds

La Varinière

Hill

Kenneth Alan

2/Lieut.

28/03/1945

Anholt

Hope-Thomson

Maxwell Richard Julian

Lieut.-Col.

14/04/1945

Shrapnel Leg wound - evacuated 22/03/1945

Lethe (Ahlhorn)

Hughes

Thomas Frederick

Major

08/03/1945

Wardt

Hulme

Patrick Ernest

Lieut.

28/06/1944

Died of wounds

Cheux

Humphreys

Roy

T/Capt.

27/12/1944

Evacuated

Bunde

Hunt

William G.

Lieut.

06/11/1944

Died of wounds 07/11/1944

Mook

James

Henry Herbert Humphrey

Lieut.

03/09/1944

Battle accident (leg injury due to mortar fire)

Pressangny L'Orgueilieux

Jauncey

Ronald Henry

Lieut.

17/03/1945

Evacuated

Afferden

Jennings

William Fossett

2/Lieut.

27/08/1944

Vernon

Kendall

George Alfred

Lieut.

26/06/1944

Mounth wound

Cheux

Laughton

Clarence William

2/Lieut.

06/07/1944

Evacuated to Hospital, died

Mouen

Leadbeater

Walter Lewin

T/Capt.

30/11/1944

Foot wound

Rischden

Martyn

A.

Major

02/08/1944

Shrapnel - Admitted to Hospital

Cahagnes

Matthews

Henry Reginald

A/Major

16/08/1944

Gun shot wound

Berjou

Miller

Roger Arthur William

T/Capt.

27/08/1944

Machine gun - died of wounds 28/08/1944

Route de Tilly (Vernon)

Morrison

Howard Stanley Leslie

A/Capt.

28/07/1944

Evacuated

Jerusalem

Newman

Howard Eric Ronland

A/Capt.

09/08/1944

Machine gun wounds

La Variniere

Osborne-Smith

Robert Edward

Lieut.-Col.

18/11/1944

Leg wound

Rischden

Ratcliff

Michael James

Capt.

13/07/1944

Ankle wound - battle accident

Chateau de Fontaine

Reinhold

Gordon George

T/Major

04/05/1945

Perforated ear-drum

Westertimke

Rice

Ralph Frederick George

Lieut.

16/08/1944

Hit by flying stone (due to land mine)

Berjou

Richards

Nicholas Trevor

Lieut.

29/06/1944

Shrapnel wound

Mouen

Richards

Nicholas Trevor

Lieut.

29/12/1944

Wounded in the foot

Bunde

Roose

Peter FitzR. R.

A/Major

14/07/1944

Knee wound

Chateau de Fontaine

Souper

Mowbray Souper

A/Major

19/08/1944

Evacuated sick to R.A.P.

Berjou

Speirs

William

Capt.

16/02/1945

Evacuated (knee injury)

Bedburg

Tinkler

Edgar

Capt.

16/07/1944

Physical exhaustion. Evacuated

Bas de Mouen

Trimnell

Frederick Stanthorpe

Lieut.

27/08/1944

Hit by machine gun

Vernon

Tromans

Leslie Attwood

2/Lieut.

23/07/1944

Baron (Hill 112)

Vickers

Arthur William Neville Langston

Lieut.-Col.

07/02/1945

Admitted to Hospital

Geldrop

Wade

Frederick Peter

Lieut.

22/11/1944

Shrapnel in the arm – evacuated 24/11/1944

Rischden

Wade

Frederick Peter

Lieut.

27/03/1945

Bullet in the thigh (Spandau)

Vehlingen (Autobahn)