Lieut.-Colonel Dennis John PHILLPOTTS (58762) - War Grave
Lieut.-Colonel Dennis John Phillpotts

(photo kindly provided by his son Mike Phillpotts)

Lieut.-Colonel Dennis John Phillpotts (58762), 8th Battalion Worcestershire Regiment
Died 12th October 1947 (age 35)
Son of Edmund Alfred and Laura Phillpotts; husband of Mary Winefride Rosina Phillpotts, of Bromsgrove.
BROMSGROVE CEMETERY, Worcestershire - grave Sec. X. Grave 182.
(Gravestone photo by Keith Slater)
Dennis John Phillpotts was the elder son of Mrs. L. Phillpotts and the late Mr. E. A. Phillpotts, of Banbury. He was educated at Banbury County School and early developed a love for affairs military, rising to be the C.S.M. of the School O.T.C. On leaving school he joined the Bucks Yeomanry, and when a staff transfer by Barclays Bank brought him to Bromsgrove he immediately took a commission in the 8th Battalion The Worcestershire Regiment (T.A.). He soon showed himself to be a keen and efficient officer, being a particularly good shot with both Rifle and Revolver. In 1938 he won the Service Rifle Championship of Worcestershire at the Annual Rifle Meeting of the County Rifle Association and also represented the Battalion at Bisley for a number of years.
A very good athlete (see photo below), he was always to the fore in Sports events at the Battalion's Annual Sports.
Shortly before the Second World War he was promoted to Captain and was given the command of "D" Company on mobilization, going to France with the 8th Battalion, where he was wounded during the withdrawal to Dunkirk. After a brief period in hospital he was back with the 8th Battalion, and then was posted to the 9th Battalion as 2nd-in-Command, serving with that Battalion in Northern Ireland until he was posted to India in 1943. There he became 2nd-in-Command of 9th Battalion Royal Sussex Regiment, and took part in the fighting in the Arakhan.
At the age of 32 he was given Command of No. 34 Indian Reinforcement Camp S.E.A.C. with the rank of T/Lieut.-Colonel, which he held until his release from the Army.
Very shortly after returning to England he lost a leg and, to his sorrow, was unable to rejoin the T.A. on its re-formation, but became the representative of the re-formed 7th Battalion on the Worcestershire T. & A.F.A.
"Potty" as he was known, was universally popular with all ranks, despite a tendency to bluntness, and always had the interests of the Regiment very much at heart.
His funeral took place at Bromsgrove Parish Church on 15th October 1947 and the pall bearers were six brother officers of the 8th Battalion, namely: Major E W. B. Berry, M.C., Major G. P. Griffiths, Major K. S. Roden, R.A.M.C., Capt. J. Moore, Lieut. J. H. Nicholls and Lieut. W. V. Watton.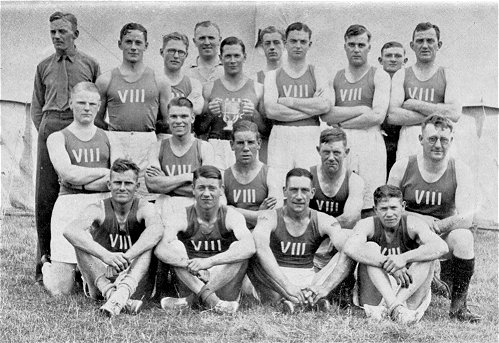 8th Battalion Worcestershire Regiment - Athletic Team (1937)
Winners of the 144th Infantry Brigade Athletic Championships, Windmill Hill, Ludgershall (14th August 1937)
Back row L to R: Lt. G. J. Dorrell, 2/Lt. P. H. Wheelock, Lt. D. J. Phillpotts, 2/Lt. C. L. Giles, Capt. G. H. Wheelock, 2/Lt. H. G. Leitch, Lt. R. F. Cassidy,
Lt. R. G. Burlingham, Pte. Abbott.
Middle row L to R: 2/Lt. F. W. Baylis, Pte. E. Smith, Pte. Kilgarry, Pte. Ford, Sgt. Nicklin.
Front row L to R: Cpl. Wright, L/Cpl. Evans, Cpl. Morris, Pte. Simmonds